" Working with the young generation is what takes me on to look way forward in life. Their eyes are unique and fervent, and that is inexplicable", quotes Ms. SebikaGogoi.
With over 15 years of experience as a Community & Social Educator, she has contributed her knowledge and learning to different communities of various age groups. However, her area of interest specifically emphasizes on children, adolescents and young adults. She has been an active member of various distinct non- governmental organizations and has put in her contribution.
In addition, she organizes camps, literacy programs and counseling sessions for children and adolescents.
She volunteer classes that embrace children from rural and urban communities of age-grouped 3 to 7 years, emphasizing on the method of moral and social education. The various activities designed for children is through creative art, story-telling, prayers, practices of holy writings, games designed specifically with a learning message, etc.
She is also known as a "Wellness Consultant", wherein, she uses comprehensive and intensive techniques and healing modalities in therapies to intervene in various physical and psychological discomfort of an individual. She is the founder of " Overall Fitness Centre and Institute" which prime motto is to "create a sound mind in a sound body". The center focuses on aspects of overall wellness of an individual i.e body, mind and soul. The nutrition of each component requires for an individual to grow and live healthy, therefore, by living a stress-free and balanced life. She says, " an individual has an idiosyncrasy to growth and self-healing of any events in life. He/she even inherently owns the capacity to heal the society physically, spiritually and materialistically.
The idea is to channelize these qualities of an individual and educate them with an insightful living. Therefore, she offers to educate and contribute to bringing in the light through the eyes of individuals and practices in daily living. Nonetheless, her practices are through the quote " Education is the key to success".
She is a certified TIENS health care professional and uses health food, health care appliances, skincare applications and household products to create a high, healthy and quality lifestyle so that people can enjoy health, happiness, beauty and affluence.
She integrates her designs on the concept of " Social Purpose Education" that enables social change via the growth in confidence, agency and self-belief of individuals and uses techniques like teaching values, reflexive practice, win-win and embedding diversity techniques for transformational leadership.
ACTIVITIES
Literacy Programs
Extensive Education
Community Education
Social Consciousness & Purpose Education
Career Counselling
Health Care and Training
Empowering Women and Entrepreneur Camps
Non-Government Organization 'RAMDHENU'
Certified trainer for TIENS health care product
Overall Fitness Center
BLISS Education Center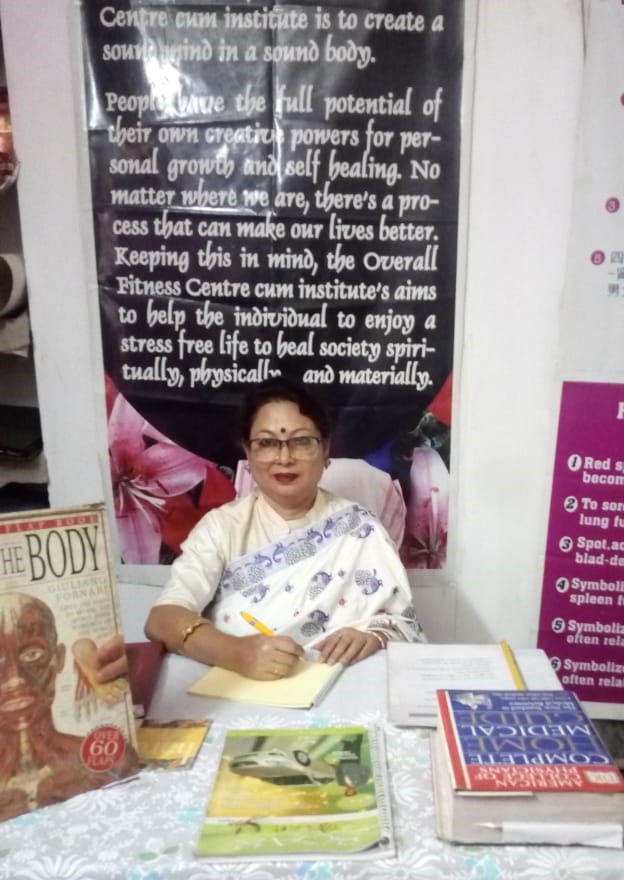 AWARDS & APPRECIATIONS
All India United Council
 National Dalit Writers Conference
 Shirin Boman Institute of Higher Studies (State Bahai Council Assam)
 Sri Sathya Sai Seva Organization
 Bharatiya Dalit Sahitya Akademi
 Prime Minister's Employment Generation Programme (MSME)
 TIENS Six Star Leadership Award
USUI SHIKI RYOHO (Reiki Health)
GALLERY
CONTACT DETAILS
Sebika Gogoi
Overall Fitness Center
HNo.26,Byelane1 (East)
Bhaskar Nagar, RGB Road
Guwahati-781021
Contact number- +91-87230-67007