Dr.Madhumita Saikia, the name that comes to mind, the moment you think of Beauty & Wellness education in Assam & North East India. An expert in makeup, hairstyles, nail technique, spa technology, alternative therapies, cosmetology and Ayurveda with Yoga, trained from the best Institutes and Universities of India and aboard. She was felicitated by the Chief Minister of Assam as the most enterprising entrepreneur in 2018.
She has dedicated her life, in imparting training and educating, the youths of different states of India and countries world over, for the last 33 years She is presently serving as one of the governing council members of B&WSSC, NSDC Ministry of Skill Development, Govt of India. An avid reader, she completed her PhD from Gauhati University. She is an active life time member of Assam Sahitya Sabha. She is the first Cosmetologist from North east, certified by CIDESCO, Switzerland. The principal Director of Signature TCAI, in an interview, shares her eventful journey and experiences on the Inspiring Women Portal.
Madhumita Saikia, believes that Human has the exclusive birth right of beauty care and every human is beautiful, we just need to expose this beauty with our expertise. Born and brought up in Bajaltoli Gaon, Tinsukia, with hard work, dedication and sincerity attained the position to be awarded as the Best Beauty Therapist of North East India by NABCUS.
She started her career as the instructress at ITI for women, Guwahati. After 11 years of service, resigned to establish her own Institute, Signature TCAI, to nourish the talented youths of Assam into skilled beauty therapists, makeup artists, hairstylists, spa technician and ayurveda therapists. The Institute Offers courses of International Standard Curriculum in regional fees pattern. Till date she has trained over 12,000 students, have achieved 94.3% placement target level(ISO audit).
Besides being a beauty educationist and a social entrepreneur, she is also a prolific writer she wrote a few books on beauty. Wrote six novels and few more are in the pipeline. Some of her other books include Angaraag, Adhunik Saundarya Charcha, Shasthya Aru Saundarya Charcha. She was felicitated in the Dergaon, Ledo, Koliabor session of Asom Sahitya Sabha. She served as Sanschalika of Ramdhenu (Sahitya sabha seminar) in Barpeta Session of Assam Sahitya Sabha.
Our Services under Signature Training Institute
Separate courses for Beauty therapy, Makeup professional, hairstyles & cuts, Ayurveda, spa technology, yoga, alternative medicine, Herbalism, Ayurvedic nutrition for both male and female, of duration 15 days to 12 months.
Apprenticeship, internship facility available in the institute and branches.
Placement and all-around guidance for business enterprise after training.
Photo sessions and publicity for students.
Faculty trained and experienced in India and abroad.
Regular seminars, conference, demonstrations by experts from India and abroad.
Natural products and ingredients used for demos and practical sessions.
Treatment and education at the same time are available.
Regular sightseeing, tours for outside state/ Nation students.
Excursions and picnics for local students.
Students can go for stage shows, ramp shows, demos from the Institute.
Library and Internet Facilities available
Easily approachable location by Air, Rail and Road.
Campus parking available for two-wheelers.
Hostel facilities available for female candidates. Accommodation for males, available only for ayurveda courses.
Separate single rooms with optional air conditioning facility available.
Daily cleaning, change of linen, mineral water and napkin.
Healthy, hygienic food for residential students and clients.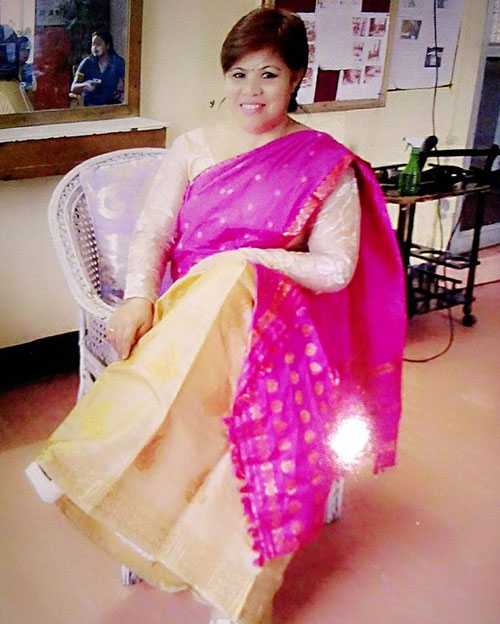 Participations and Awards
Invited to Shanghai for training in Ayurveda to 47 health care staff of Beijing Olympics.
A delegate to Sydney in the  DoNER minister Mani Sankar Aiyer's team for India- Australia Business Mart, 2010. Presented the Spa-tourism opportunity in Assam, in her speech in India Tourism Office, Sydney.
She is invited to Southampton, England as Ayurveda Expert.
Was a team member as an expert in Beauty & Wellness, to UK Skills competition, in Birmingham. seminar.
Visited Yangon, Myanmar, as a delegate in India invest meet and Winning the best presenter award at Trade India delegation meet, Myanmar by the Chief Minister Yangon.
Acclaimed worldwide for her book 'Ayurvedic Massage and Medicine' and Beautician Training Corse book (published by Asian Publication, New Delhi).
She has penned over a thousand beauty columns in various newspapers, magazines, journals.
She served as editor of a beauty and health magazine 'Saundarya Aru Shasthya'.
She has presented her valuable beauty tips in different television channels like NETV, News live, DY365 Channels, News18 Assam, Pratidin Times, Gupshup, Radio luit, Radio Mirchi etc
GALLERY
CONTACT DETAILS
Signature TCAI
189, Hatigaon Road Circle
Near Rajdhani Masjid, Dispur, Assam – 781006, India.
Tel: 03612225659/ 9706403129
Email: signatureawards2010@gmail.com
Available on Facebook, Tweeter, Instagram