Agriculture in India is transforming its practices. As young and charged-up entrepreneurs are joining the fray, commodities are being turned into value-added products.
Integrated production or Integrated Farm Management is a whole farm management system which aims to deliver more sustainable agricultural production. It involves attention to detail and continuous improvement in all areas of a farming business through informed management processes. Integrated Farming combines the best of modern tools and technologies with traditional practices according to a given site and situation. In simple words, it means using many ways of cultivation in a small space or land. The innovation in farming for maximising production through optimal use of local resources, effective recycling of farm waste for productive purposes, community-led local systems for water conservation, organic farming, and developing a judicious mix of income-generating activities are salient features of Integrated Farming.
The Entrepreneurial Journey
Monalima Dutta is a qualified child protection resource person with more than 18 years of experience in Child related activities such as Children education, Child rights, Child Care and Protection for the development of children. She is qualified as M Sc in Human Development with B.Ed, did International Diploma in Guidance and Counselling from NERIE Shillong and Certificate Course in Counselling Skill from Mind India Institute of Positive Mental Health and Research, Chandmari. Initially she worked in educational institutions as a teacher in Don Bosco in Jorhat. Later on she worked with the counseling of children, engaging herself in child related activities and Protection of children against abused, exploitation, violence and trafficked victims. She has been made a member of CWC of Kamrup Rural based in Amingaon and presently she is working as a member of Juvenile Justice Board at Amingaon, Kamrup (R)and is also associated with other NGOs.
Monalima Dutta had always in her mind that the key to proverty reduction lies in the growth of the rural economy. Fish farming is the simple method which one can take up as profitable livelihood as 90% of the households in the Barsimaluguri village possess a pond and there is lack of awareness about scientific rearing. Since year 2017, she started her farming based on integrated farming on fish-piggery-horticulture system with 2 hectares of land on self finance and she has been practicing scientific integration of different farm components like fish, pig and different horticultural crops like mango, guava, lemons, papaya, litchi, banana etc., which is a viable option for sustainable production of different commodities with low investment, mitigation of risk factor and impact on environment.
Fish is the cheapest and easily digestible animal protein and can be produced under natural and artificial condition. Farmers can easily start fish farming in areas where water table is available. Fish farming not only produces fish but also creates gainful employment for skilled and unskilled labour. The selected site for the project is at Barsimluguri village of Barama circle in Baksa district of Assam and the selected land for this proposal qualifies for most of the qualities as the proposed area is naturally low land and ground water is available round the year. Monalima Dutta took 1 week hands on training on integrated fish farming at Krishi Vigyan Kendra (KVK), Kahikuchi, Guwahati prior to starting of her journey.
About D.K. Agricultural Farm
The project started in year 2017 on infrastructure development with Pond construction, farm development, pig sty, store house etc. Procurement of the piglets after completion of infrastructure and fish culture operation was started six months later. With total land area of 2 hectors ,four number of ponds with water spread in 7 bigha and 2 units of pig sty are constructed on the pond dyke: "Hempshire-local cross bred" and "Rani" are the varieties of pig in the farm, adds Monalima.
Farming systems:
A. Pig farming as a component of integrated fishery based farming system:
Scientific pig sty construction is being done for practicing integrated pig- fish farming. Proper concrete drainage and manure collection tank was constructed for the purpose. After construction of 2 pig sty units, 2-3 month old vaccinated piglet of high yielding varieties, for both meat and piglet production purpose, were stocked for rearing purpose. Hampshire-local cross breed and Rani are the pig varieties used for integration in the farm. Hygienic condition is well maintained in the farm for better yield. On an average a pig requires 2-3 kg of feed/ day for fattening. Pigs are feed with 100% formulated nutritionally balanced supplementary feed available in the market.
B. Horticultural crop plantation as a component of integrated fishery based farming :
Fruit orchards of banana, mango, guava, ber and litchi and fifteen rectangular plots of tuberose were made. About 10,000 bulb of tuberose are planted in those 15 rows in between the fruit plants of mango and litchi. Cash crop like Papaya , Turmeric, Assam lemon, Colocassia, Ginger, Pineapple , betelnut, etc. are planted in a systematic manner. Assam lemon work as bio fencing round the farm. Papaya and Banana are also planted along the pond dyke and also in between the Assam Lemon and betelnut.
Production Components:
1. Pig: Hampshire-local cross breed and Rani are the pig varieties kept in the farm for selling of piglets for meat purpose.
2. Horticultural crops i.e.; Tuberose, Guava, Mango, Papaya, Litchi, King chili, Turmeric/ ginger, Assam Lemon, Banana, Ber (Thailand Bogoree), pineapple, Colocassia etc. for commercial sell.
3. Fish Culture: Silver Carp, Rohu, Grass Carp, Common Carp, Bhoukuwa etc are reared in the pond and used for commercial sell.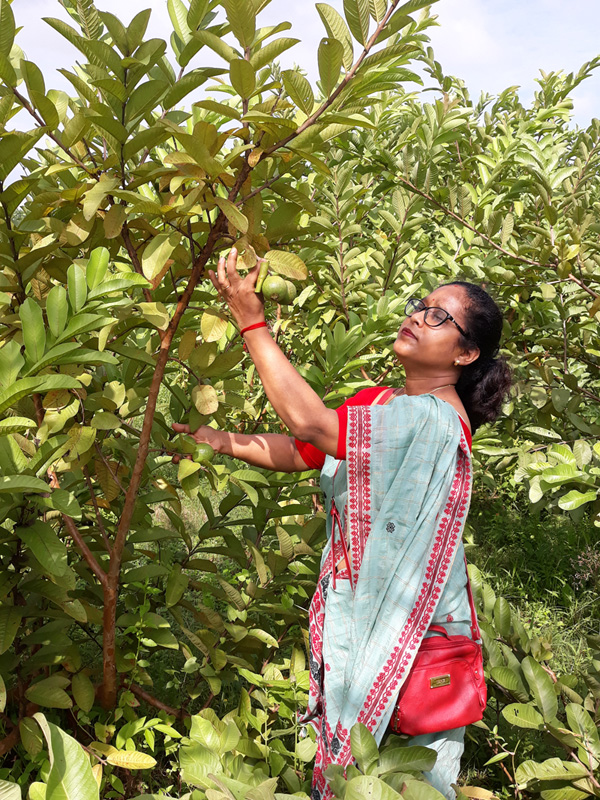 GALLERY
CONTACT DETAILS
D.K. Agricultural Farm
Barsimaluguri, Barama
District-Baksa, Assam-781346
Residential Address
Mrs Monalima Dutta
Bl-A, 5C, Gaurav Apartment
Bishnu Rabha Path, Beltola tiniali
Guwahati-781028, Assam
Contact No-08638861501/09436165980
Email id – monalimadeka@gmail.com
monalimadeka@yahoo.in